Secure and Affordable Remote IT Support – Reliable Tech Solutions at WaTech
Skilled Remote Technology Support for Michigan Companies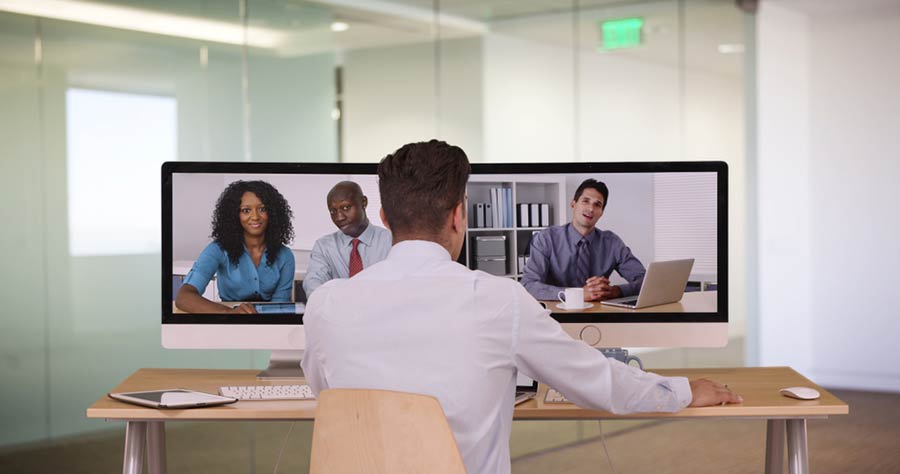 Are you a Michigan business proprietor in need of trustworthy and reasonably priced remote tech support? Many others share this sentiment. There are various businesses that suffer from technology difficulties that are not easy to overcome on their own. You'll be pleased to learn that there are alternatives tailored to help your business's remote technology needs.
At WaTech, our knowledgeable team of experts delivers all-encompassing remote tech support customized to satisfy the distinct needs of every business we collaborate with. Through our pragmatic methods, businesses can maintain communication and productivity while safeguarding their data on every digital platform. You can have peace of mind as our round-the-clock surveillance and preemptive upkeep services protect your enterprise from probable dangers or weaknesses. Let WaTech take charge of offering outstanding remote technical backing, giving you the freedom to prioritize growing your organization over managing tech concerns. Contact us without delay!
Remote Technical Support Benefits
Businesses in Michigan need reliable and efficient technical support to keep operations running smoothly. Remote technical support offers many benefits that can make managing your business easier than ever before. With offsite managed services, data backups, and storage resources, the need for on-location technicians or adept IT specialists is no more.
Remote technical support provides around-the-clock access to experts trained in various technology needs – from software updates to hardware maintenance and more. Thus, faster reaction times occur when problems emerge, paired with preventative actions like routine system inspections to detect potential risks or issues. Since remote services don't require a physical presence, there's no time wasted waiting for someone to address an issue. Remote assistance not only cuts employment expenditures, but it also decreases downtime and safeguards crucial resources.
With these strengths considered, let's delve into the specific services our team of accomplished professionals propose.
Technology Provided Services in Michigan
WaTech provides a multitude of services to ensure their technology remains secure. A team of expert technicians, operating remotely, can help with various IT management activities, including:
Troubleshooting System Issues – finding solutions to unexpected problems
Firewalls and Network Configuration – we create them accurately and ensure your existing setup operates optimally
Remote Desktop Assistance – supporting users in interfacing with and working on programs remotely
VPN Deployment and Oversight – providing secure connectivity between different locations
Additionally, we offer proactive maintenance by providing system checks, patch installs, software updates, network monitoring, security scans, and more. This ensures top-notch performance and cuts down on possible risks related to using out-of-date systems. With our all-inclusive strategy for technical assistance, your business can continue to operate seamlessly without concerns about interruptions due to unexpected problems.
Types of Technical Issues Resolved
Our team of technical support specialists in Michigan offers extensive technological help for enterprises. We possess expertise in addressing numerous challenges such as infections, malicious software, hardware defects, and software patching. Staying ahead of the latest threats is vital, and we have the know-how to quickly identify potential security issues before they get out of hand.
Our staff possess the expertise to identify system problems or performance decrements resulting from outdated software or operating systems. We ascertain the primary origin of these complications and present rapid resolutions, taking away your concerns about lengthy downtimes or the risk of losing data. Furthermore, we supply forward-looking maintenance assistance to make certain your systems continue to be secure, updated, and running at their best.
We deliver quick support by phone or email for concerns involving installation setups, network arrangements, virus elimination steps, device compatibility assessments, and user account administration jobs – and we do it all without ever stepping into your location. This ensures shorter downtime and a decline in difficulties when fixing IT situations.
Online Tech Assistance
WaTech recognizes the necessity of making sure your business stays steady and secure. WaTech's skilled team of remote technicians ensures continuous support for all of your IT challenges. With our rapid response times, rest assured we'll be there to help instantly should any unexpected complications occur.
Our highly qualified techs excel in setting up networks, applying software updates, resolving system issues, enhancing performance configurations, and much more. We ensure compatibility between hardware components and newer versions of operating systems or programs to prevent downtime. Additionally, our preemptive maintenance solutions provide complete defense against emerging risks while ensuring systems remain up-to-date with the newest security fixes.
At WaTech, we take pride in offering top-notch technical help, regardless of your local location or throughout the country. Our professionals rapidly identify issues and promptly address them, facilitating a quick return to your normal operations. WaTech's remote resources provide the assurance of skillful and streamlined oversight of your IT infrastructure from start to finish.
Remote Desktop Services
As companies delve deeper into the digital realm, dependable remote desktop services become crucial. Thanks to our remote desktop solutions, you can access your systems securely from anywhere on the planet, allowing for improved flexibility in task management and remote problem-solving.
We specialize in setting up secure connections between devices and their appropriate programs, allowing employees outside the office to stay connected with work-related applications while protecting against potential cyber threats. Our technicians also monitor your system's performance to identify and rectify issues quickly.
If you're in need of support for configuring software tools or need further insight into our remote desktop capabilities, we stand ready to deliver expert counsel and aid. Our technical support team ensures that clients remain connected, controlling their data at all times.
Network Security and Protection
WaTech is dedicated to backing up businesses like yours and comprehending the essential nature of preserving your data's safety. Offering advanced network security and protective solutions is the main focus of our team. These are a few ways we ensure the protection of your information from likely cyber risks:
Installing encryption software – Scrambles data to protect confidentiality when transmitted over public networks
Establishing and maintaining firewalls – Firewalls function as an extra line of defense, allowing solely authorized traffic to enter, securing private information from unapproved access
Developing antivirus methodologies – Modifying systems to spot viruses and malware in advance of any damage, systematically scanning to find suspicious patterns
Training users in optimal security techniques – Guiding staff in recognizing phishing emails, utilizing strong passwords, and controlling user access to thwart unauthorized entry
We furnish customers with the know-how and implements vital for remaining ahead of cyber threats while preserving the durability and trustworthiness of their digital infrastructure. Our skilled support crew is accessible in the event of any complications, designating us as the prime associate for the protection of your commercial interests. Embrace genuine reassurance as WaTech diligently protects your critical data!
Firewall and VPN Configurations: Oversight and Implementation
WaTech grasps the vital nature of secure and reliable IT systems. For companies, our team supplies reliable firewall and VPN configuration as well as management assistance. Our approach involves the creation of bespoke firewalls for clients, ensuring the utmost security while providing necessary resource access. Additionally, we configure Virtual Private Networks (VPNs) for safe remote connections over public networks or across different sites.
Continually, our technicians survey network traffic, uncovering odd behavior and warding off unauthorized infiltration into the system. If a breach occurs, we act quickly to minimize damage and restore service as soon as possible. Rest assured that your system is continuously safeguarded from possible risks with routine maintenance checkups and software updates.
Our comprehensive solutions are created specifically for small-to-medium scale businesses in need of data security. Our experts stay informed about the latest cybersecurity developments, so you don't have to worry. Trust WaTech to protect your IT infrastructure and business from potential threats.
Data Storage and Continuity
We appreciate the critical need for dependable data backup solutions for business owners at WaTech. Our skilled technical personnel deliver inclusive services to shield your essential information from unanticipated disasters. We develop customized backup strategies for local and cloud storage systems and automate the process to reduce resource strain. By harnessing the power of encryption tools, we certify that your data is securely transmitted and stored.
Furthermore, we ensure continuous network tracking and regular upkeep evaluations, granting you confidence that your information is consistently shielded.
Onsite and Remote Help Services are Offered
WaTech offers both onsite and remote support services tailored to your specific needs and budget. When dealing with specialized hardware fixes or instances where an in-person visit is crucial, onsite support is optimal. Our technicians work efficiently to minimize downtime without compromising service quality, while also increasing familiarity with your system for future assistance.
From your office or home, remote support delivers the same outstanding service. Through secure access to your devices, our technicians can identify and fix technical problems in real time, steering clear of costly service trips. We can also arrange periodic maintenance plans tailored to your system's performance requirements.
System Sustenance Tactics
Regular maintenance is a vital aspect of ensuring secure and efficient computer systems. Specialized strategies designed in line with your individual requirements are provided by our team. We provide a range of services, from planned maintenance visits to preemptive problem-solving. Utilizing tools such as antivirus software, firewalls, and intrusion prevention systems to maintain system security.
Malignant Software, Computer Viruses, and Digital Ransomware
Malicious assaults present considerable risks to enterprises. Our group has a wealth of knowledge in managing malware, viruses, and ransomware, conducting frequent scans, eliminating malware, and providing suggestions on how to prevent issues. Our technicians are on hand to assist with troubleshooting or addressing attacks, making sure that your information remains protected.
Pointers for Opting for a Service Provider
Selecting the right service provider depends on your needs and budget. Bear in mind these considerations:
Cost – Factor in the price while accounting for the included services, avoiding hidden fees.
Customer support – Staunch, 24-hour customer support is important for expeditious problem resolution and advice.
Select a provider boasting both an outstanding track record and domain expertise. Solicit feedback from past customers to judge their competencies.
The First Steps: How to Begin
Connect with WaTech to address your needs and receive seasoned guidance on the right services for your organization. Be aware that choosing a reliable support system now can protect you from expensive repairs later on, so go with a provider that can uphold your systems effectively.
Frequently Asked Questions
How Much Does Remote Technical Support Cost?
Remote technical support fees vary depending on your individual demands. Contact us for a detailed quote.
Is Remote Tech Support Trustworthy?
Without a doubt, our authorities operate within secure infrastructures and contain the proficiency and background vital to deal with multiple IT situations.
Is Remote Technical Assistance Capable of Resolving Hardware Problems?
Certainly. Our adept team can evaluate and deal with both software and hardware complications, ensuring speedy and capable resolutions.
Can My Present Systems Support Remote Technical Support?
A suitable remote technical support ally is adept at gauging the state of your hardware and software components, detecting concerns, and formulating customized responses adapted to your system. This implies being on-hand during emergencies or suggesting personalized solutions based on budgetary constraints.
Beginning with WaTech's Remote Support Services
These valuable services offer professional assistance for users. Get all your technical issues resolved by WaTech's trained staff. The remote support network enables you to promptly and effectively tackle regular tech challenges. Tap into the power of WaTech's Remote Support Assistance to tackle your technical troubles today.
Our clients enjoy fast, reliable, and cost-saving IT solutions through remote technical support. Remote technical support, capable of solving both hardware and software problems while integrating with current systems, maintains smooth operations. Get in touch with WaTech now to take advantage of our remote support services and optimize your business operations.