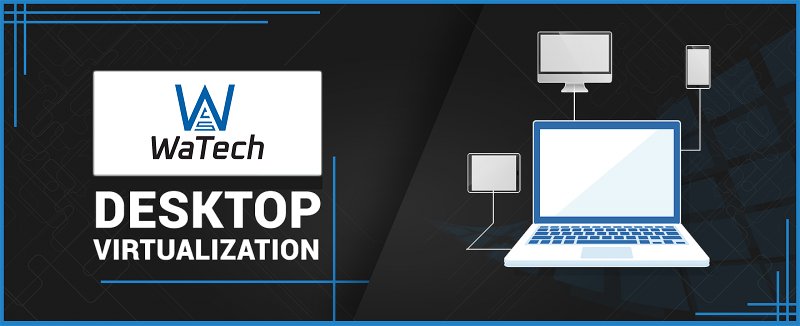 // Hosted Virtual Desktop Infrastructure
A VDI solution that feels like a real Desktop
WaTech Computer Services provides your business with an easy solution for secure, managed, cloud-based virtual desktop.
WaTech's Cloud platform delivers a customized cloud environment for you to control your business applications and data with secure access for all your employees from anywhere, from any device, via any internet or private connection. Their virtual office wherever they are.
WaTech's Alpha Desktop is a completely managed Virtual Desktop solution. The solution is hosted, managed, and maintained in an SSAE 16 certified data center and all the applications and data are integrated on centralized virtual servers.
This is a subscription-based model and the workspace can be customized for your business, while you maintain complete control over security policies and directory permissions. Immediate access to hundreds of the most popular applications and customize your solution with Alpha Desktop service today.
// Key Features
What makes Alpha Desktop different?
MOBILITY
Alpha Desktop means that your employees can get the same desktop experience regardless of whether they are in the office, working remotely, or logging in from a mobile device. Everyone gets the same interface, which boosts productivity.
REDUCED EXPENSES
Because Alpha Desktop runs in our cloud, our solution comes with minimal capital expenditure. It's even possible to reduce operating costs because you don't have to invest in on-site infrastructure, pay increased energy bills or configure onsite hardware.
SURVIVABILITY
Alpha Desktop provides business continuity because virtual desktops can be failed over very quickly during a power outage, network outage or server failure. One second offline can equate to lost revenue, but WaTech can reduce, and possibly eliminate downtime completely.
SCALABILITY
Alpha Desktop services are scalable to match the ebb and flow of your business. This provides the customer the assurance their infrastructure requirements are nimble. Never worry about expensive hardware again. We have you covered.
COMPLIANCE & SUPPORT
WaTech's datacenters are compliant in HIPAA, PCI DSS, SSAE 16, and SOC standards. WaTech includes onboarding and training with its deployments along with ongoing 24x7 support. Rest assured that your business data is in the right hands.
FLEXIBLE & SECURE
Alpha Desktop is a subscriptionbased model and the hosted environment can be completely customized with your line of business applications, while you maintain complete control over granular security policies and directory permissions.